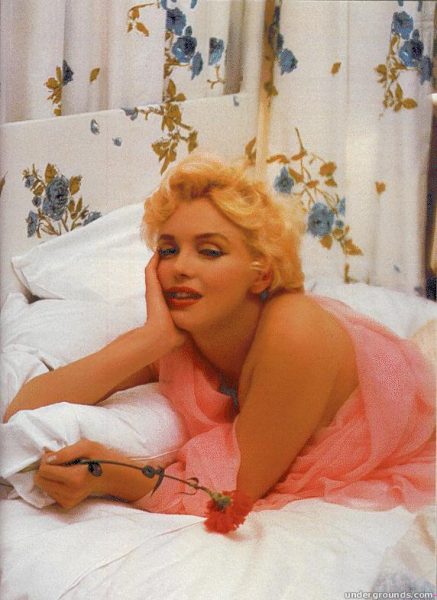 Over the next few posts I'm going to focus on the best fan tributes for Marilyn's birthday. But firstly, here are a few selections from the blogosphere.
We're all used to reading Marilyn's own words online – though sadly, some of them are internet fakes – but Flavorwire has compiled a rather good list, 30 of Marilyn Monroe's Smartest and Most Insightful Quotes.
Nearly all of these are genuine, in my opinion – meaning, they can be traced back to reputable biographies and interviews with MM herself. The only one I'm not sure about is the second one, regarding James Joyce's Ulysses, which comes from the disputed Miner transcripts. (However, we do at least have Eve Arnold's 1955 photo as evidence that Marilyn read the book – and, indeed, she later performed Molly Bloom's closing soliloquy as an exercise for her dramatic coach, Lee Strasberg.)
"Here is [James] Joyce writing what a woman thinks to herself. Can he, does he really know her innermost thoughts? But after I read the whole book, I could better understand that Joyce is an artist who could penetrate the souls of people, male or female. It really doesn't matter that Joyce doesn't have… or never felt a menstrual cramp. To me Leopold Bloom is a central character. He is the despised Irish Jew, married to an Irish Catholic woman. It is through them Joyce develops much of what he wants to say."
Geeks of Doom posted this thoughtful tribute:
"While she didn't have the cocksure winking swagger of a Mae West, or the sharp natural beauty of an Ava Gardner, she somehow fell somewhere in the middle of both of those ladies…In a strange way, she is old Hollywood and still remains fresh in new Hollywood."
And finally, Kim Morgan reposts her wonderful Playboy tribute from last year over at her Sunset Gun blog.
"Because through it all, no matter what was happening in her life, Marilyn gave us that gift: pleasure. Pleasure in happiness and pleasure in pain and the pleasure of looking at her. And great artist that she was, looking at her provoked whatever you desired to interpret from her. Her beauty was transcendent. For that, we should do as Dylan instructs: 'Bow down to her on Sunday, salute her when her birthday comes.'"