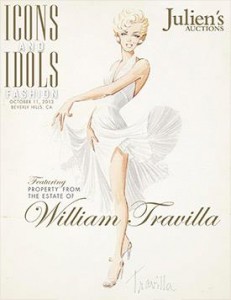 Items from the estate of William Travilla, including costumes designed by Marilyn, will be sold by Julien's Auctions on October 11th, with prior exhibitions at the auction house in Beverly Hills, and the Newbridge Silverware Museum of Style Icons in County Kildare, Ireland, reports Broadway World.
"Some of the Marilyn Monroe highlights of the 'Property from the Estate of William Travilla' auction include a Monroe/Andy Warhol Blue Tribute Dress which was created for an Andy Warhol memorial service at the Beverly Hilton and mimics the famous Seven Year Itch dress (Estimate: $4,000-$6,000), a Marilyn Monroe Gentlemen Prefer Blondes inspired gown by Travilla featuring the gold lame sunburst halter gown design (Estimate: $10,000 – $20,000), Travilla's There's NoBusiness Like Show Business Academy Award plaque ($3,000-$5,000), a 1953 Travilla Gentlemen PreferBlondes costume sketch (Estimate: $6,000-$8,000), and a Marilyn Monroe Seven Year Itch inspired Travilla gown (Estimate: $20,000-$30,000) along with several other pieces.

Prior to the auction the collection will also exhibit exclusively at Newbridge Silverware's Museum of Style Icons (MOSI) in Ireland as well as Julien's Auctions Beverly Hills."
EDIT: The auction will now take place on November 8th.