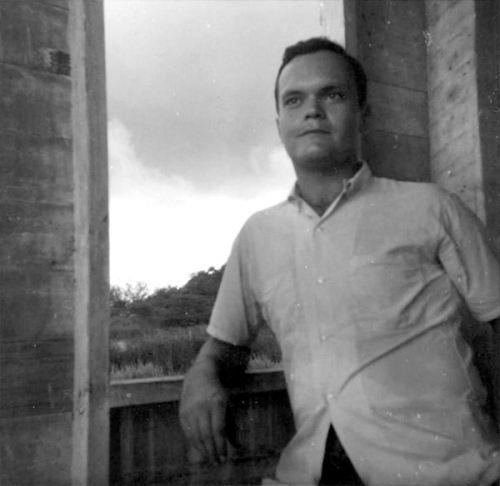 Butterfly in the Typewriter is Cory McLauchlin's new biography of John Kennedy Toole, the New Orleans-based novelist whose comic masterpiece, A Confederacy of Dunces, was unpublished until long after his suicide in 1969, aged 31.
Fans of the author may not have known that he – like many of Louisiana's young men – was a passionate admirer of Marilyn Monroe. In 1955, he wrote to New York Times critic Bosley Crowther, praising his favourable review of The Seven Year Itch.
An enthusiastic comic book artist during his college years, Toole later created The Hullabaloo, a three-part series partly inspired by Marilyn's performance in Bus Stop. 'He depicts a voluptuous Monroe leaning in ecstasy against a bus stop post,' McLauchlin writes. 'Two students observe her and whisper, "I don't know who she is, but she's been here for two days." The next week the same frame was republished with the caption, "What? She still here?" Two weeks later, the image appears with the caption, '"NOoooo!" The homely ladies appear threatened by the beauty that simply will not leave.'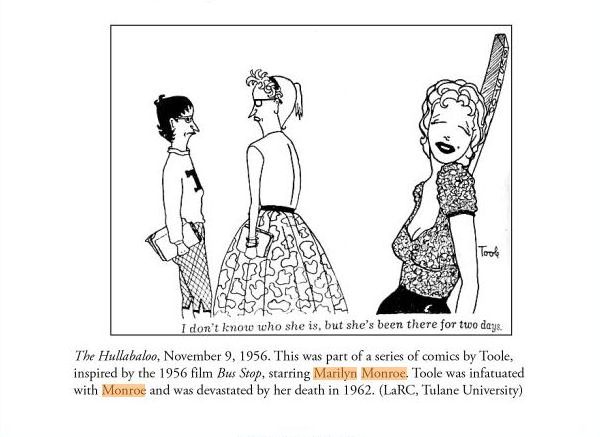 Toole was shocked by the news of Marilyn's death in 1962, which he learned while teaching English as part of his military service in Puerto Rico. Toole commented, 'Her life and death are both very sobering and even frightening. In my own way I loved Marilyn Monroe very much. Isn't it a shame she never knew this…'
Toole, who lived with his mother, experienced great difficulties in forming relationships with women. He was devastated by the assassination of John F. Kennedy in 1963, and his depressive tendencies were certainly aggravated by repeated rejections from publishers.
A Confederacy of Dunces was finally published in 1980, and a year later, Toole was posthumously awarded the Pulitzer Prize for Fiction (an honour that Marilyn's third husband, Arthur Miller, had previously been awarded for his 1949 play, Death of a Salesman.)