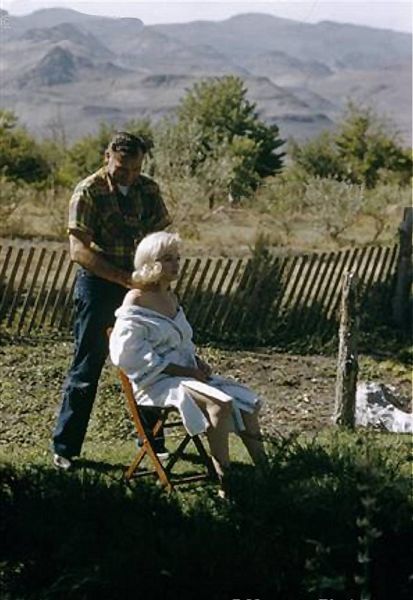 Marilyn first met fellow actor Ralph L. Roberts at the home of Lee Strasberg, and in 1959 he became her personal masseur. She loved to hear stories about his hometown of Salisbury, North Carolina, and called him 'brother' – in fact, her final phonecall may have been to Ralph. He died in 1999.
Ralph's nephew, Hap Roberts, will appear in a forthcoming documentary, Marilyn: Birth of an Icon, and extracts from an unpublished memoir, Mimosa, have been posted on Roberts' website.
In today's Salisbury Post, Mark Wineka looks back at their close friendship.
"Only two weeks ago, documentary filmmakers from Paris were here, interviewing Ralph Roberts' nephew, Hap, who saw his uncle almost every day for the last three years of his life in Salisbury.

French Connection Films also spoke to Chris 'Steve' Jacobs, the man Hap Roberts has made archivist for his uncle's papers and all things Marilyn.

Long after Monroe had died and mainly as a way to correct and set straight things written about her, Ralph Roberts started several versions of a memoir, which he titled Mimosa.

'There's constant interest in that manuscript,' Jacobs says.

Hap Roberts and Jacobs hope to publish the memoir some day, though putting the Marilyn years in chronological order and dealing with Ralph's writing style have been difficult.

'He never took advantage of his relationship with Marilyn Monroe in any shape or form,' Hap Roberts says of his uncle. 'We don't want to profit from it, either. We just want to do what Ralph would want done.'

Roberts actually met Marilyn Monroe for the first time at [Lee] Strasberg's New York apartment in 1955. He wrote in his memoir that she was 'one of the most radiantly beautiful creatures' he had ever seen.

'And when I say creature, that was it,' Roberts wrote. 'An animal. The blue-whiteness one sees sometimes in the stars of a desert night. White-blond hair, clear-white complexion framing violet-blue eyes.'

Roberts became Monroe's official masseur in 1959, and for long periods, during her various marriages and romantic entanglements, would give her massages daily.

Roberts and Monroe forged a bond. She called him 'Rafe,' the British pronunciation for his name.

They connected on the Willa Cather books they read, their spirituality and, believe it or not, Salisbury.

As Roberts massaged her at night, he spoke to her about his hometown and all of its places and people – down to men such as Irvin Oestreicher and Julian Robertson Sr. to the roasted peanuts at the Lash store and the winged statue on West Innes Street. Together, Roberts and Monroe ran errands, ate meals together, attended parties and took plane trips across the country between New York and California.

Roberts was with Monroe the night she practiced singing 'Happy Birthday,' the version she would famously croon to Kennedy.

They watched the 1960 Democratic National Convention together when Kennedy won the nomination. They were on the set together every day of The Misfits, Clark Gable's last movie.

In addition to massaging Monroe between scenes and being her chauffeur, Roberts played the part of an ambulance driver in The Misfits.

Hap and Annette, who also became close to Ralph, knew not to probe him for his memories of Monroe.

When he did talk about their relationship, they tried not to interrupt, savoring every detail and recognizing how much he loved and respected Monroe.

Ralph Roberts felt great remorse that he wasn't home the night of Monroe's death to answer her call. He lived close to the actress and could have been to her house quickly.

'I do think he probably carried that to his grave,' Hap Roberts says.

Hap Roberts tells a funny story, too, of another Monroe gift to his uncle. After Ralph's death, Hap was gathering his uncle's clothing together for a donation to Goodwill.

He noticed a woman's Burberry trench coat in the closet, but he figured it was a friend's coat, left at Ralph's house in the past. He placed it with the other things for Goodwill.

'About a month later, I found a list of Marilyn Monroe items,' Roberts says. 'Sure enough, on the list was Burberry trench coat.'

'Well, Marilyn's coat is now protecting some unsuspecting lady in Salisbury from inclement weather.'

When Ralph Roberts died April 30, 1999, at his home, he was 82. Hap Roberts said he sat alone in his uncle's house and cried until he couldn't cry any longer.

Roberts noticed the stacks of memoir papers spread out everywhere in the living room. In the den, he also saw the open Willa Cather book that his uncle had been reading.

Up to the end, Ralph Roberts was chasing his friend, Marilyn Monroe."