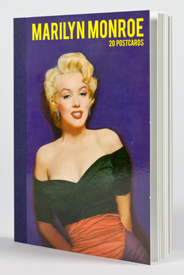 'Marilyn Monroe: A British Love Affair' is a new display detailing Marilyn's connections to England, including her iconic photo session with Cecil Beaton and the 1957 film, The Prince and the Showgirl.
The display will open at London's National Portrait Gallery on September 29, through to March 1st 2013. Admission is free.
A book of postcards accompanying the display is now available to order from the NPG website (not available in US.) And on October 4th, biographer Michelle Morgan will give a 45-minute lecture on Marilyn's time in England, starting at 1.15 pm.
"Included are Antony Beauchamp's poses of Monroe taken in 1951 wearing a yellow bikini and Baron's portraits of Monroe bathed in Californian sunlight taken in 1954. Cecil Beaton's 1956 photographs taken in his Ambassador Hotel suite in New York include Monroe's favourite image of herself, clutching a rose. Cinematographer and cameraman Jack Cardiff photographed Monroe during a private sitting at the time of The Prince and The Showgirl.

Life photographer Larry Burrows was one of many photographers who covered Monroe's four month visit to Britain including the press conference for The Prince and The Showgirl at the Savoy Hotel. Other photographs show Monroe at a Royal Command film performance meeting the Queen another taken at the Comedy Theatre with Arthur Miller, Vivien Leigh and Laurence Olivier who directed and co-starred with Monroe. Monroe is also shown with other British subjects including the British director Roy Ward Baker and the poet Edith Sitwell.

In addition the display includes a comprehensive selection of rare British magazine covers taken by André de Dienes and Milton Greene and a 1960 Sight and Sound showing Monroe as she appeared inLet's Make Love, in which she appeared with British singer Frankie Vaughan.

Concluding the display is a recently acquired photograph of British Pop artist Pauline Boty pictured in front of one of her paintings of Monroe; a homage to one of the most enduring icons of the twentieth century."