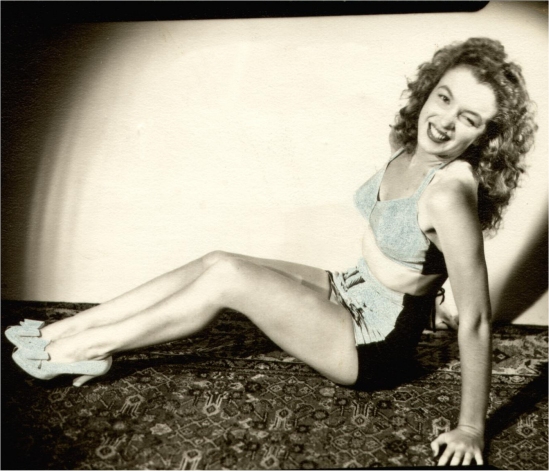 Documentary film-maker Ian Ayres is working on a project about Marilyn, reports Screen Daily:
"Writer-filmmaker Ian Ayres, whose film Tony Curtis: Driven To Stardom is on Wide's Cannes slate, is at work on a revisionist feature documentary about Cannes postergirl Marilyn Monroe.

Ayres has already spoken to and filmed many Monroe associates, among them Don Murray (co-star of Bus Stop), Stanley Rubin (producer of River of No Return), and Hugh Hefner, and Susan Bernard (daughter of glamour photographer). The director has also interviewed Monroe's close family members.

'We interviewed Marilyn's first foster sister, Nancy Bolender, who also has Marilyn's first nude photo which she is letting us use in the film. It's a baby photo of Marilyn,' Ayres said.

The late Tony Curtis features in the Marilyn doc. There is also rare footage of Monroe as a 15-year-old.

The Monroe documentary is currently shooting under the provisional title Marilyn: Birth Of An Icon."
Ayres spoke to The Damned Interviews about the project, and his friendship with John Gilmore, author of Inside Marilyn Monroe.
"During interviews for the Tony Curtis film, people kept sharing unknown things about Marilyn Monroe. So I decided to make a bonus called 'All About Marilyn' but found the most insightful stuff could only be cut down to 33 minutes. Then I realized Marilyn mattered too much to me to be a mere bonus. So now I'm in the process of making the documentary on her that I'd always hoped someone would make. It's a respectful, loving one that's feature length! There is so much more to Marilyn Monroe than any documentary has ever brought to life. From the interviews we already have, I'm convinced this will be the ultimate Marilyn Monroe documentary. Marilyn Monroe was a great artist. Many consider her a genius who, through this film, will finally be shown the respect she definitely deserves. She has my respect. That's for sure!

John's (Gilmore) not the type to talk for hours. I had to keep asking him questions. He was most kind and patient with us during the interviews, especially the recent one about Marilyn Monroe. We lost a major part of the interview due to a technical problem and hoped John wouldn't mind re-doing it. We were holding our breaths when we asked. And John proved to be very understanding. Not only did he repeat the entire lost section of the interview, he became even more detailed in his spontaneous eloquence. I felt as if Marilyn were right there with us, too."