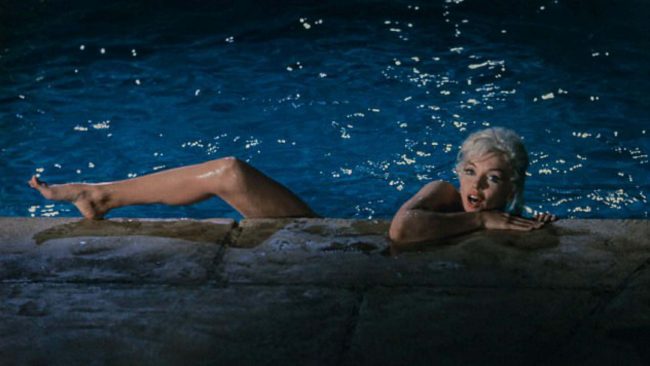 Writing for The Guardian, Lawrence Schiller picked this shot from the pool scene in Something's Got to Give as his personal favourite.
"When she jumped into the water with her bathing suit on, I looked at her as if she were an athlete. My adrenaline was going. She was moving so quickly there wasn't time to focus the camera, so I had to anticipate what she would do next. In a lot of my pictures of Marilyn, her body is always to one side, because I needed to have room for what she might do with the rest of the shot. This was always my favourite. I still get a little laugh inside me when I look at it.

When the shoot was over, I rang the magazine and it hit me: wow, she did it! I realised at the same moment how desperate she was. When she had nothing left, to prove that she could still get more publicity than anybody else, out came the birthday suit again.

Marilyn approved certain pictures, and they went all over the world. I had no ethical qualms about that; she could have changed her mind. But I had no sense of history and threw the rest away.

She was fired from the film and died several months later. I couldn't believe it. I rushed to her house, then the mortuary and went into journalistic mode. I was there to capture events. A photographer owes it to history not to get emotionally involved. My 10-year-old daughter said of this picture, 'It says everything but shows nothing.' Even a child could work out the innocence and desperation it captures."
Marilyn & Me launched this week at New York's Taschen Bookstore. MM fan Edgar Freire attended, and took photos.
While signing books, Schiller told the New York Daily News,  'I photographed some women who were extraordinary — but nobody that could turn it on like a light switch as Marilyn did. All you had to do was absorb and preserve what Marilyn was doing, and you had great images.'
Larry Schiller has also been interviewed for TV's Today show. You can watch the video now at MSNBC.