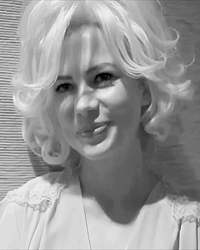 Douglas Eby focuses on Michelle Williams' recent portrayal of Marilyn in an article for PsychCentral:
"Michelle Williams devoted some ten months to researching Marilyn Monroe for her acclaimed performance in 'My Week With Marilyn.'

Producer Harvey Weinstein said he was impressed at the level of Williams' preparation, how she could quote passages from Maurice Zolotow's biography on Monroe.

'Michelle researches a role like no one I've ever encountered,' Weinstein wrote in an email. 'She watched and studied the movies and photos; she read every book, every biography.… She could describe how Marilyn wiggled and winked while quoting some of her best lines, [like] when she teased that she was nude by saying, "I have nothing on but the radio.'" …

Williams probably also read: My Story, the autobiography by Marilyn Monroe.

She commented in an interview, 'So I lived with her, and I never stopped trying to find more information. Even on set, on the 10-minute breaks, I would be back poring through photos or with my earphones in watching a movie. I was obsessed. I was on the trail of something. There were clues, and I had to solve a mystery.'

From my Inner Actor post Michelle Williams on Interpreting Marilyn Monroe."
'One of the many elements of My Week With Marilyn that I appreciated was the depiction of the emotional challenges Monroe suffered from the onslaught of fame and media attention.' Eby explores this theme further in another article, 'Actor's Privacy and The Dark Side of Fame', with reference to 'Through Your Own Grievous Fault', an essay by Ayn Rand written shortly after Marilyn died.