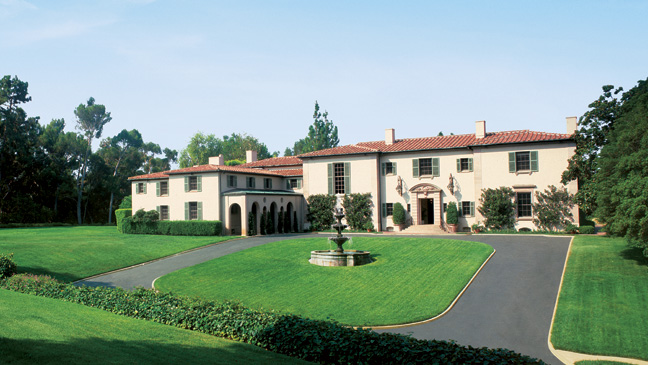 Today's Hollywood Reporter documents the history of 141 South Carolwood Drive, the Holmby Hills estate owned by Joe Schenck, co-founder of Twentieth Century-Fox, in the late 1940s. The mansion features in a new book by Michael Gross, Unreal Estate: Money, Ambition and the Lust for Land in Los Angeles.
As a starlet, Marilyn Monroe visited Schenck's home frequently, and according to columnist Sheilah Graham, she became known as one of his 'gin rummy girls'. Schenck even allowed her the use of his guest cottage.
Gross asserts that Marilyn and Schenck had a mutually beneficial affair, as other biographers have done previously. However, Marilyn and Schenck both denied it, as did friends of MM. One thing is for certain – Schenck liked Marilyn and was an early champion in her career. She last visited him in hospital in 1960, a year before he died.
Schenck sold his Carolwood home to Tony Curtis in the late 1950s. Curtis, who starred alongside Marilyn in Some Like it Hot, has claimed an affair with her dating back to the 1940s. His stories have been widely disputed, and this later residence may explain some of the details he gave about the guest cottage.
Subsequent occupants of the Carolwood estate have included Sonny and Cher. Though Marilyn frequented many such grand properties in her lifetime, her own addresses were comparatively modest.