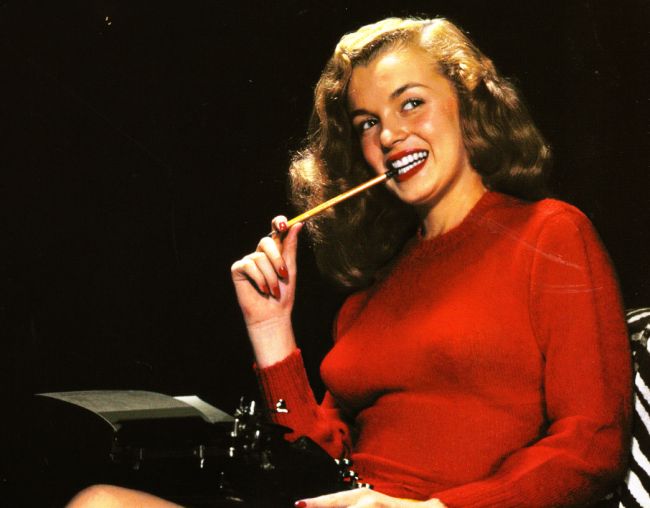 Early fan reviews of MM-related books and film have been posted online. Artist Elizabeth Grammaticas attended last week's premiere of My Week With Marilyn at the New York Film Festival:
" 'My Week with Marilyn' is the most heartfelt attempt to understand Marilyn Monroe that I've seen in a motion picture, despite at times the questionable credibility of the initial text. Michelle Williams doesn't physically look all that much like Marilyn. Marilyn is hard to physically capture, and there are others with a greater likeness…but personality wise…Michelle finds Marilyn. I agree with other critics that Michelle falls short of…performing Marilyn performing Marilyn (ie…in her scenes recreating 'The Prince and the Showgirl'), but at times if you blur your eyes, catch a profile, angle, a walk or an expression you see moments of candour or pain where you feel like you are actually seeing something more real than a publicity shot of the real Marilyn Monroe with a her white dress blowing up over her head. One of my favorite parts of the film is when Michelle as Marilyn says 'shall I be her?' and turns the Marilyn persona on. This is seen in the trailer of the film, but like the trailer of the original 'Prince and the Showgirl'…this trailer doesn't remotely depict what 'My Week with Marilyn' is about. The films are about basic interaction between very different people on a much more subtle level.'
Over at The Mmm Blog, Melinda Mason reviews Susan Bernard's new book, Marilyn: Intimate Exposures:
"Intimacy (as the title suggests) is what Susan Bernard must have been striving for in this edition of her book. As Marilyn book collectors will be aware, Susan also published a book based on her father's photos and journal entries called 'Bernard of Hollywood's Marilyn' in 1993. While some photos are the same and many journal entries are identical, that is where the similarities end. 'Marilyn: Intimate Exposures' is a far superior book. It even includes a beautiful photographic print from 'The Seven Year Itch' in an envelope at the back so you can frame it."
And on Goodreads, David Marshall (author of The DD Group and Life Among the Cannibals) reviews Bye Bye, Baby, a novel about Marilyn's death by crime writer Max Allan Collins.
'But when a historical figure is suddenly no more, (and make no mistake about it, Marilyn Monroe is a historical figure), attention should be paid. All angles concerning their passing should be looked at carefully. All research should be scrutinized. All opinions should be considered. And that should not be restricted to non-fiction attempts at understanding the incomprehensible. Fiction can be a powerful tool and this includes the fun reads. Future generations may come across Bye Bye, Baby and even if they understand the work is "just" a novel, there's plenty here to get you thinking and rethinking, and, hopefully, that will lead them on to other books on the subject. That, as far as I am concerned, is one of the greatest services of fiction—it makes you think. And Collins more than does his share in that regard.'