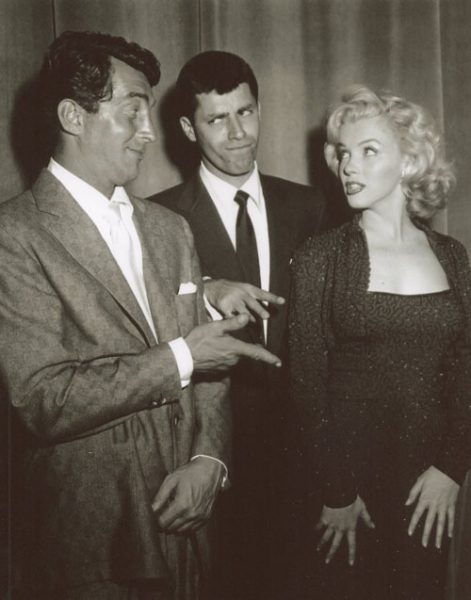 Marilyn appeared on Dean Martin and Jerry Lewis's radio show in 1952. (The episode is included on The Marilyn Monroe Anthology.) MM is shown above with the comedy duo at the Redbook awards, later that day.
For several years now, Jerry (now 85) has claimed that he and Marilyn had an affair. He brings up the subject yet again in GQ (US version, August issue), as Liz Smith reports:
'Here's one Lewis tale for lovers of history, scandal, and sex-with-the-famous. Jerry insists that Marilyn Monroe never ever had that fabled affair with President John F. Kennedy. He is adamant. Lewis says she didn't do it with JFK because … she did it with him, Jerry. He doesn't quite explain the logic of what could have stopped MM from, you, know, making love to the president and to him as well? (Did Jerry think he'd spoiled her for all other men?)

Lewis also declares that the greatest sex-symbol used sex "to make an emotional connection." It was more than just sex for her.

However, when asked by GQ's writer "what was it like?" with Monroe, Jerry says: "It was … long. I was crippled for a month. And here I thought Marlene Dietrich was great!" '
Lewis, a presenter at 1952's Photoplay Awards, famously jumped on a table and whistled when Marilyn walked up to the podium.
At around this time, MM is said to have told reporters that, unlike many other women, she found Lewis more attractive than Martin (her co-star in the unfinished Something's Got to Give, ten years later.)
However, that comment doesn't really prove anything – and I'm always a bit wary of anyone who claims to have had an affair with Marilyn near the end of her life, especially during the so-called 'Kennedy years'.
What do you think?