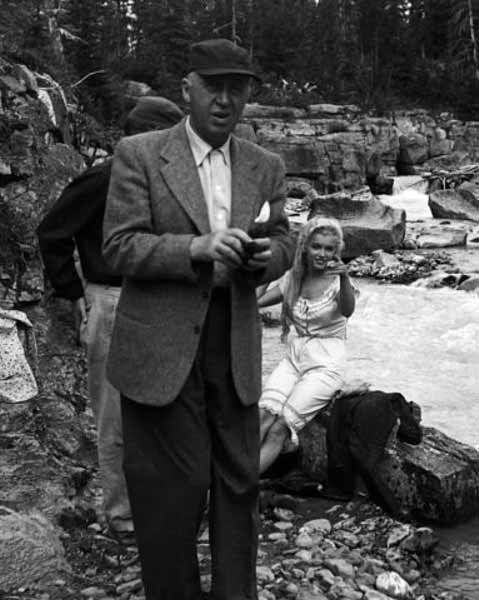 Of all Marilyn's directors, Otto Preminger was probably the least suited to her sensitive nature. He was notorious for bullying actors, and while filming River of No Return, Marilyn was forced to do dangerous stunts and subjected to constant insults from Preminger through his megaphone.
Marilyn finally got the upper hand after an accident while filming a boat scene. She suffered a leg injury, and while some friends like Shelley Winters believed it was only a minor sprain, doctors ordered complete rest. Marilyn won the cast and crew's sympathy and Preminger had no choice but to bow to her demands.
Over at IndieWire today, 'The Playlist' reviews Preminger's career. He directed many classic Hollywood films, including Laura, Whirlpool, Where The Sidewalk Ends, Carmen Jones, The Man With the Golden Arm, and Anatomy of a Murder.
It is generally agreed that River of No Return was not one of Preminger's best works – or Marilyn's. They were both assigned to the project by Twentieth Century Fox as a contractual obligation.
However, I still admire Preminger's pioneering use of Cinemascope, and Marilyn's brilliant musical numbers: One Silver Dollar, I'm Gonna File My Claim, Down in the Meadow, and River of No Return. She was at the peak of her beauty, and her vocals are incredible even if her acting was hampered by a mediocre script.