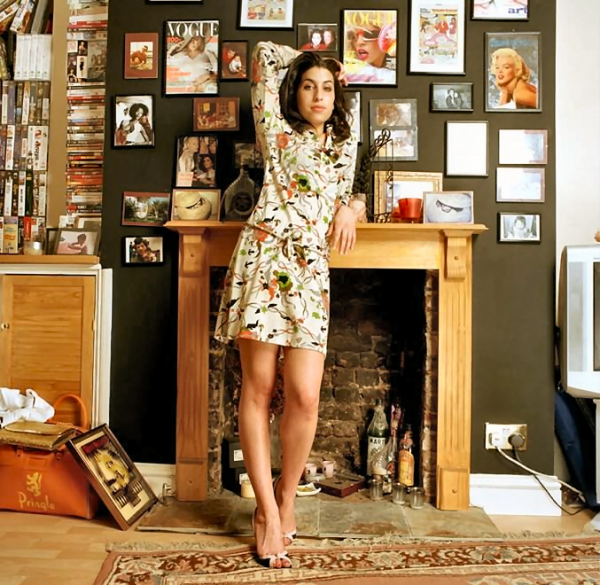 This photo shows singer Amy Winehouse, who sadly died this weekend aged just 27, at home in 2004. You may notice a framed picture of Marilyn on her wall – as her father, Mitch Winehouse, confirmed in 2008, she was quite a fan:
"One thing helping Amy is her Marilyn Monroe films. Amy loves 'Some Like It Hot'. She's a huge fan of Monroe and thinks she's wonderful." – MTV
Amy referenced another MM movie in the lyrics to 'In My Bed', the third single from her debut album, Frank:
"Wish I could say it breaks my heart
Like you did in the beginning
It's not that we grew apart
A nightingale no longer singing

It's something I know you can't do
Separate sex with emotion
I sleep alone, the sun comes up
You're still clinging to that notion

Everything is slowing down
River of no return
Recognise my every sound
There is nothing new to learn…"
Like many other women, Amy was inspired by Marilyn's ultra-feminine style – and perhaps, on a deeper level, she looked to Marilyn's example when she had to confront her own personal difficulties.
In the end, Amy – like Marilyn – lost the fight. As we approach the 49th anniversary of Marilyn's death, this most recent tragedy should remind us to make time for each other, for we never know when our lives may be cut short.