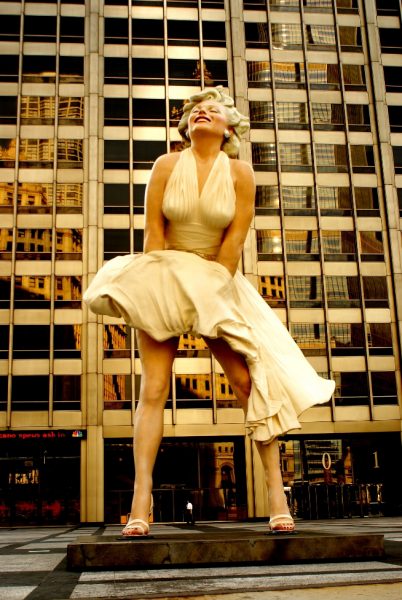 A 26 ft statue by sculptor Seward Johnson depicting Marilyn's 'upskirt' pose in The Seven Year Itch has been unveiled this week on Chicago's Michigan Avenue, the 'Magnificent Mile'. Commissioned by Zeller Realty Group, the sculpture will remain there until May 2012.
To me, the statue's face looks more like Rue McClanahan, aka Blanche from Golden Girls, than MM in her prime. There's no denying its power of spectacle – but does such a literal, if magnified, recreation of an endlessly reproduced image really deserve the mantle of 'art that makes people think'?
'In Pioneer Court Friday morning, pre-teen girls, adolescent boys and older folks (mostly men but plenty of women) took turns standing between her ankles or leaning against one of her Big Boy-sized feet,' the Chicago Tribune reports. 'While the cameras clicked and whirred, pedestrians of all ages gazed directly up at one of cinema's most famous undergarments, writ XXLarge.'
'Iconic images end up, like other recyclables, empty,' writes a sceptical Eric Felten in the Wall Street Journal. 'Is the halter-dressed Marilyn supposed to signify anything? Perhaps she is meant to be an emblem of carefree sexuality. If so, it's a message rather at odds with the unpleasant circumstances of the image's creation. When director Billy Wilder shot that scene one night in 1954 at Lexington Avenue and 52nd Street, a thousand Manhattan gawkers stood around leering at Ms. Monroe's unmentionables. Her husband at the time, Joe DiMaggio, was there, seething. His rage led Ms. Monroe to end their marriage.'
'Monroe is presented as an object for male consumption (though females may certainly participate), as a transitory moment is creepily frozen in time,' writes Abraham Ritchie at Chicago Now.  'The eroticism of the actual scene in the movie is drained out as the moment lasts eternally…Sadly, the reduction of Monroe to a mere sexual object is exactly what may have contributed to her suicide.  (Seward) Johnson seems not to realize this.'
Personally, I agree with the Tribune's verdict that 'Forever Marilyn' is 'bad taste – on such a large scale'. And of course, there's nothing intrinsically wrong with that.
But I would love to see more original, challenging art inspired by Marilyn – for example, the work of Elizabeth Grammaticas, Mary Ann Lynch, and Neal Turner – in the public arena.