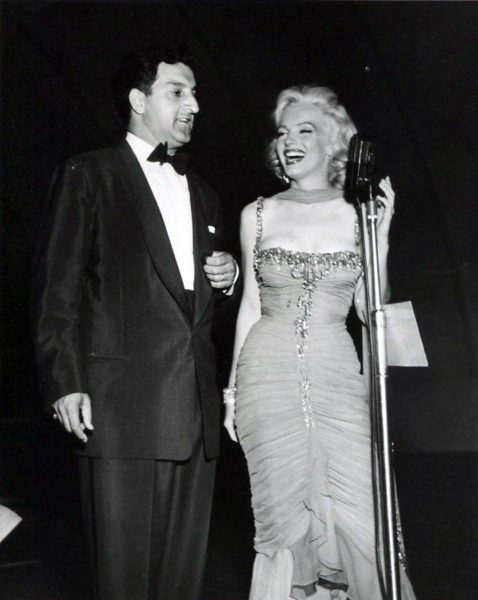 The Hollywood Reporter takes a look back at the history of the Hollywood Bowl:
"Comedian Danny Thomas (with Marilyn Monroe) hosted a September 1953 concert at the Bowl to raise money for St. Jude's Children's Hospital. Monroe was the evening's main attraction and performed a song from 'Gentlemen Prefer Blondes'."
Some accounts suggest that the benefit actually took place in July, not September of 1953. Unfortunately, no audio or movie footage has resurfaced as yet, though Marilyn was widely photographed at the event, by Bruno Bernard and others.
She wore her orange dress from the dining room scene in Blondes. Co-stars Jane Russell, and Robert Mitchum (River of No Return) also attended.
George Forrester, who worked as a security guard for Marilyn that night, spoke to Hollister Freelance News in 2007:
"Forrester was a 22-year-old college student in Los Angeles when he worked a temp job in 1953 at the Hollywood Bowl where comedian Danny Thomas hosted a huge fundraising event for his St. Jude Children's Hospital charity. Forrester was hired to man the stage entrance for the show. He saw a parade of famous film celebrities pass through, and the biggest star of all was Marilyn Monroe, the main attraction of the evening. Everyone waited anxiously for midnight when the movie goddess would end the show by performing songs from her hit film 'Gentlemen Prefer Blondes'.

Fate somehow maneuvered George Forrester to literally bumped into Monroe. He had gone backstage to get a Coke to drink. When he turned around, he accidentally collided into the actress and spilt his soda on the star's tangerine-colored skin-tight dress.

'She was able to brush it all off,' Forrester told me in a phone chat the other day as we discussed the differences between Monroe and Smith. 'Her bodyguard grabbed me by the neck and lifted me into the air. It was Marilyn who said, "Sam, put him down. Put him down." '

After Sam had set Forrester back on the ground, Marilyn tried to comfort the young man. 'She made me feel comfortable because she saw that I was shook up,' he recalls. 'She apologized for (Sam's behavior) and we sat down.'

Although this was a big night where Marilyn was the focus of everyone's interest, the actress focused her own attention on Forrester. She asked him about his life plans and he told her he was a senior in college majoring in drama and minoring in pre-dental. He told her about his ambitions to be a big-shot actor. Perhaps all too wary of the ways of the motion picture business, she advised him to stick to pre-dental.

Perhaps this very down-to-earth conversation with Forrester helped shield Monroe's mind from the overwhelming media hype she had to face that night. 'I have a feeling she kept me with her because everyone was trying to get a photo-shoot with her or talk to her,' Forrester said. 'She looked at me, her eyes looked in my face constantly when we were talking, which always makes you feel good.' "
According to biographers, Marilyn's debut at the Hollywood Bowl occurred much earlier, when as a child she appeared in a religious pageant. She also briefly lived with her mother in a bungalow at Arbol Drive, close to the Hollywood Bowl (the house was later demolished.)