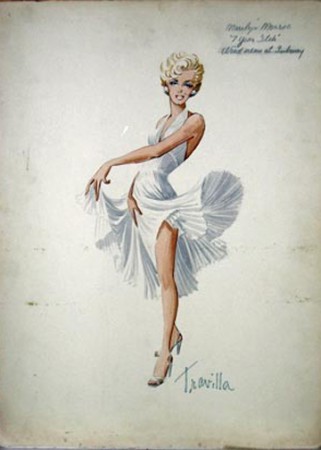 "I have a feeling some records are going to be broken with this gown," artist Liz Grammaticas posted to her blog on the eve of the Debbie Reynolds auction. She was, of course, referring to the immortal white halter-dress that blew up as Marilyn stood over a subway grating in The Seven Year Itch (1955.)
And Liz was right, of course – the dress sold for £2.8 million, along with many other Monroe-related items as Melinda reported on The Mmm Blog.
The Guardian reported on the history of Marilyn's dress, quoting its now deceased designer, Travilla: "I wondered what could I do with this most beautiful girl that Marilyn was to play to make her look clean, talcum-powdered, and adorable."
Over at Bloomberg, Virginia Postrel noted that, contrary to myth, MM was definitely not a plus-size: "In fact, the average waist measurement of the four Monroe dresses was a mere 22 inches, according to Lisa Urban, the Hollywood consultant who dressed the mannequins and took measurements for me. Even Monroe's bust was a modest 34 inches."
However, Scott Fortner – who attended the auction – asked on his blog, 'Was it the dress?' As many fans will know, designers often made up to five versions of any costume. After liaising with Andrew Hansford, curator of the Travilla Estate, Scott recorded his findings in another post, 'Say YES to the dress'. It is a well-researched article, pointing out differences between the dress worn in the outdoor photo shoot, and the version used in the later, studio-staged scene.
On a sombre note, many have lamented the dissembling of one of the world's most spectacular collections of Hollywood memorabilia. None more so than Debbie Reynolds herself, who tried for many years to open a museum.
Finally, who bought the dress? Nothing has been confirmed, but Jane Fonda posted on her blog last week, "A Canadian consortium that has all of Marilyn Monroe's estate and possessions bought her white Seven Year Itch dress for many millions."
If Jane is correct, hopefully this won't be the last we'll see of the world's most iconic dress.