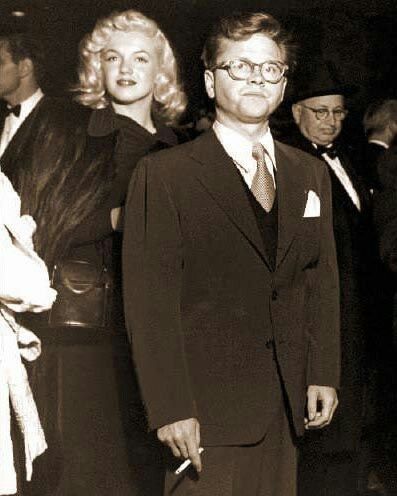 Jim Korkis writes on Mouse Planet of a tall story spun by Mickey Rooney, claiming it was he who inspired Mickey Mouse. In fact, Walt Disney's wife suggested the name.
Of course, Uncle Walt was not averse to stretching the truth for publicity purposes either.  It was he who started the rumour that Tinkerbell – the mischievous fairy in Peter Pan – was based on Marilyn Monroe, when the real model was a little-known starlet, Margaret Kerry.
Mickey Rooney, who starred in one of Marilyn's early films, The Fireball (1950), has also claimed that he suggested Monroe's name. This is incorrect – Norma Jeane took the name in 1946, after a discussion with talent scout Ben Lyon.
Marilyn had known Mickey since about 1948, when she accompanied him to the premiere of Billy Wilder's The Emperor Waltz. It was a studio custom to set up actors on 'dates' for publicity purposes.
Rooney was dining at the Villa Nova restaurant in early 1952 when Marilyn had her first date with Joe DiMaggio, and even interrupted the couple to ask for Joe's autograph.
The tables were turned when Rooney was invited to a party in Marilyn's honour that summer, and, along with Sammy Davis Jr and others, joined Ray Anthony's band to play 'My Marilyn'.