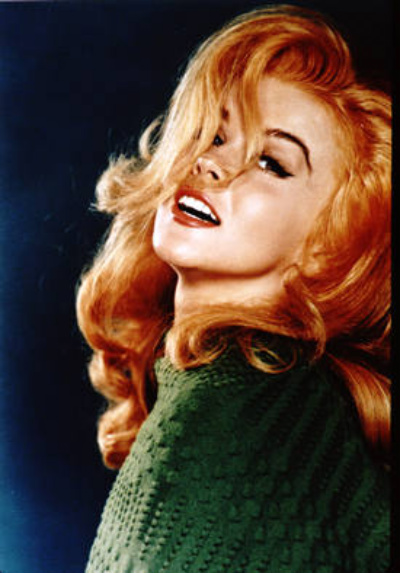 An interesting series on actress Ann Margret at Noir and Chick Flicks records an encounter with Marilyn in 1960, when Ann was just 19:
"Through high school, she continued to star in theatricals. As part of a group known as the 'Suttletones'. They traveled Los Angeles and, through agent Georgia Lund, landed club dates in Newport Beach and Reno, where Ann-Margret had a chance meeting with Marilyn Monroe, who was on location for the film, The Misfits. Monroe noticed her in the crowd, then chatted privately with her, offering her encouragement."
The Unabridged Marilyn notes that Ann-Margret later worked with Marilyn's former stand-in, Evelyn Moriarty, and two of her hairdressers, George Masters and Sidney Guilaroff.
Ann-Margret found fame with Bye Bye Birdie in 1963, and went on to star with Elvis Presley in Viva Las Vegas, with Jack Nicholson in Carnal Knowledge, and alongside The Who and Tina Turner in Tommy (which also featured a bizarre homage to Marilyn.)
Though Ann, like Marilyn, was a celebrated pin-up, she wisely turned down several opportunities to impersonate MM on stage and screen (After the Fall, The Sex Symbol, Sugar.)
Ann-Margret spoke directly of Marilyn in an interview for Life magazine in 1971:
"She was a very healthy girl when she came on the scene, mentally and physically. Years went by, people picked on her. She was terribly abused, for no reason. She became sick – and posthumously they gave her acclaim."
More recently, Ann co-starred with Jack Lemmon and Walter Matthau in Grumpy Old Men, and in 2010, she won an Emmy for her guest role in Law and Order: SVU. She has been married to Roger Smith since 1967.
Lindsay Lohan, another famous MM fan, has always reminded me of Ann-Margret (in looks) much more than Marilyn. Perhaps she should give her a call…