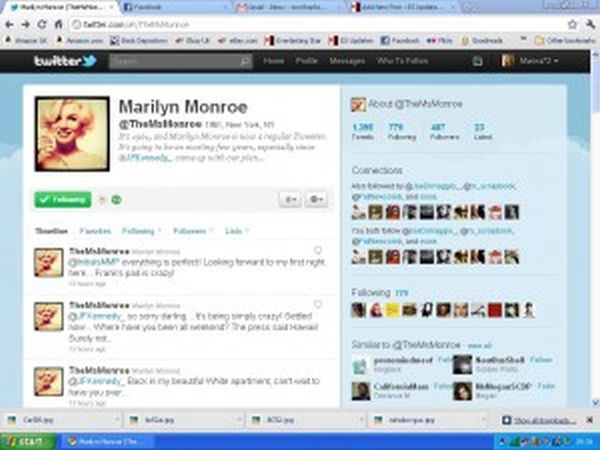 Well, it had to happen – almost half a century after her mysterious death, Marilyn Monroe is alive, and tweeting.
Marilyn Monroe

@TheMsMonroe 1961, New York, NY

It's 1961, and Marilyn Monroe is now a regular Tweeter. It's going to be an exciting few years, especially since @JFKennedy came up with our plan…
This account is one of several linked to the entertainment world of the early 1960s. Others include @PatNewcomb and @InitialsMMP
Admittedly, this is quite a clever idea because the Twitter feed will lead us up to Marilyn's passing in time for the 50th anniversary in 2012.
However, I find the idea of MM tweeting about her personal life bizarre and wildly speculative, to say the least.
My personal favourite of these accounts is @GossipMike, which relates actual headlines from columnist Mike Connolly over the years. His tweets aren't confined to MM, but I have learned a few interesting details along the way…