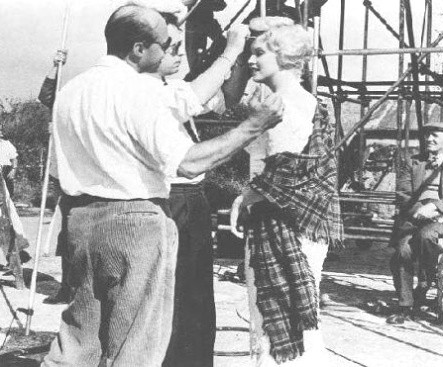 John Huston's The African Queen, photographed by Jack Cardiff, has been digitally restored and released on Blu-Ray. Marilyn attended the film's premiere in February 1952, with her director friend, Nicholas Ray. (Her first big break had been in Huston's 1950 movie, The Asphalt Jungle.)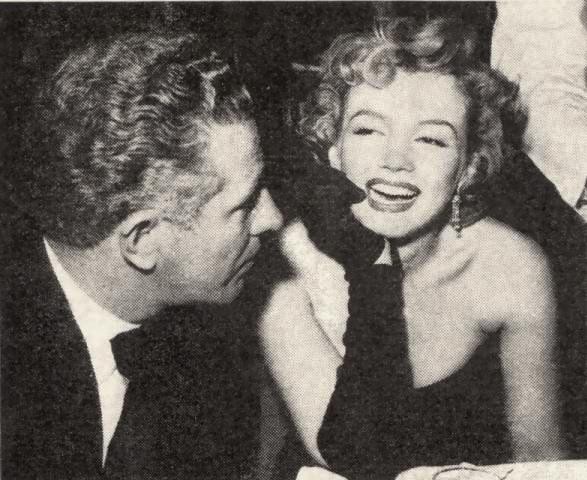 Cardiff, who died in 2009, is the subject of a recent documentary, Cameraman, and also worked with Marilyn Monroe on The Prince and the Showgirl (1956.) He spoke about her not long before his death, in an interview with journalist Chris Sullivan:
Another legend you became very close to was Marilyn Monroe when she came to England to shoot The Prince and The Showgirl as directed by Laurence Olivier. How was she?
Of course, she was the biggest star in the world and when she came on set the whole of the world stopped and looked. And she hated being looked at. One day she told me she had this disguise that would enable her to walk down the street and blend in. But when she showed it to me I couldn't believe it, it was the most screaming bright, bright orange red wig you've ever seen. And I said Marilyn you cannot wear that it will just attract attention and she said: 'D'you think so? Okay.' And that was her mentality. On one part she was the great Marilyn Monroe, the sex goddess, the person that everyone in America wanted to go to bed with. That was the Monroe character, and the other one was like a little child of about 14. She was very down to earth and normal but so vulnerable – you really wanted to protect her. Her extraordinary screen presence made up for everything.

As either director or cinematographer you filmed some of the world's most beautiful women: Ava Gardner, Sophia Loren, Gina Lollobrigida, Ingrid Bergman, Marilyn Monroe etc and I am sure the question we all want answered is who was the most beautiful ?
Ingrid Bergman had a face that was indestructible. Most movie stars, unless the lighting is perfect, might look less than 100, but she looked great from all angles and whatever the lightning. If Ava [Gardner] had been out all night drinking you could see it but not Ingrid .She could stay up all night and you'd never tell. Monroe had a great face in that she was almost impossible to make her look bad.