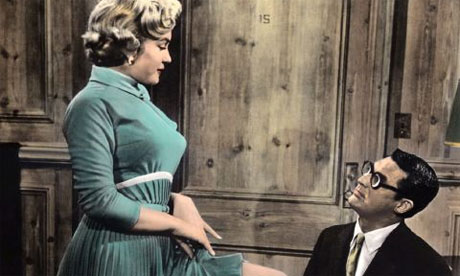 Film critic Peter Bradshaw, of The Guardian, thinks Howard Hawks' Monkey Business (1952), featuring Marilyn as inept secretary Miss Laurel, is an 'ace ape jape':
"It is part romp, part druggie-surrealist masterpiece, and a complete joy. 'Monkey Business' is undervalued by some, on account of its alleged inferiority to the master's 30s pictures, and the accident of sharing a title with a film by the Marx Brothers. I can only say that this film whizzes joyfully along with touches of pure genius: at once sublimely innocent and entirely worldly…Dr Fulton drinks [a youth drug]; his short sight is cured and he instantly gets a new youthful haircut, jacket, and snazzy roadster, in which he takes smitten secretary Lois (Marilyn Monroe) for a day's adventures. (The memory of Grant with his Coke-bottle glasses exchanging dialogue with the entranced Marilyn was revived eight years later by Tony Curtis in 'Some Like It Hot.')"

Full review at The Guardian
Monkey Business screens tomorrow at 6pm, NFT2,  in London's BFI Southbank, as part of the ongoing Howard Hawks season. Gentlemen Prefer Blondes follows at 8.30 pm. Marilyn's two collaborations with Hawks will also feature in a Hawks season at Edinburgh's Filmhouse Cinema next month.