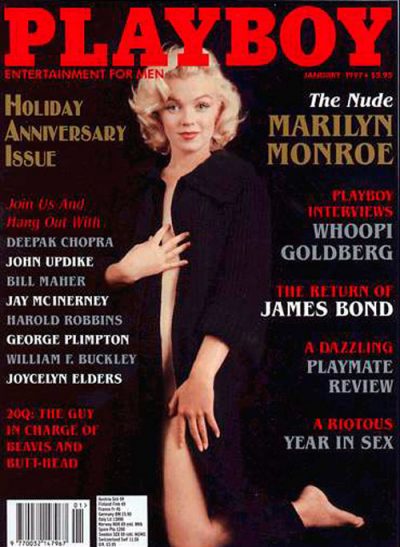 Playboy founder Hugh Hefner has clarified one of the most common misconceptions about MM to his fiancee, Crystal Harris, while in conversation with chat show host Piers Morgan on CNN.
"PIERS: What do you guys talk about?
CRYSTAL: Everything. I ask him… I want to know everything about Hef. I ask him all these questions. I'm not a jealous person. I want to know, like, 'Did you know Marilyn Monroe? Did you sleep with her? Did you do this?'

PIERS: Well, actually, that's a damned good question. Did you know Marilyn Monroe?

Hugh: She was actually in my brother's acting class in New York. But the reality is that I never met her. I talked to her once on the phone, but I never met her. She was gone, sadly, before I came out here.

PIERS: How much of Playboy, do you think, is down to you, personally?
Hugh: Well, I certainly didn't do it alone. But it is certainly very personal. The whole notion of Playboy came from my own dreams, my childhood, adolescent dreams."
Marilyn graced the first Playboy cover – and centrespread – back in 1953. It is often said that Hefner 'discovered' Monroe. But she was already a world-famous star with her handprints immortalised in cement at Grauman's Chinese Theatre. And she never formally posed for the magazine – the nude centrespread was a calendar pose taken by Tom Kelley in 1949.
However, it could be said that Hefner owes his career to Marilyn, at least in part. Many of the celebrated Playboy cover girls – including Pamela Anderson – have imitated Monroe's style.
More than twenty years ago, Hefner compounded public confusion by buying the burial plot next to Marilyn's at Westwood Memorial Park, Los Angeles. I wonder how his wife-to-be feels about that?