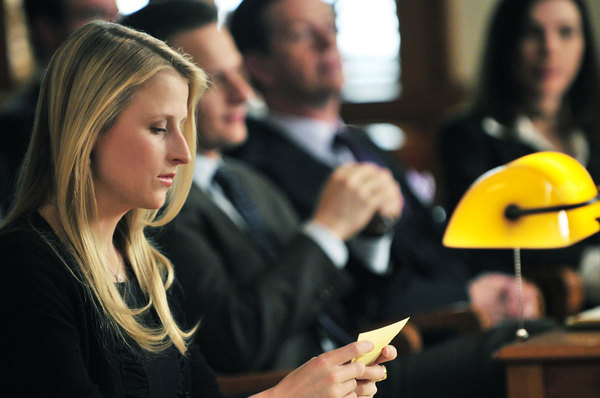 Nancy Crozier (played by Mamie Gummer) is a recurring character in US legal drama, The Good Wife. In Season 2, Episode 4 ('Cleaning House'), Crozier, who works for a rival firm, is appointed co-counsel on a case with Alicia Florrick (Julianna Marguiles.)
Florrick is defending a DJ at a nightclub where a young woman died in a stampede, while Crozier represents the security firm on duty when the tragedy occurred.
Judge Jared Quinn is a chauvinist who throws Alicia out of court for wearing trousers. Crozier wins Quinn over when she sees a photograph of his daughter in a high-school production of Arthur Miller's 1964 play, After the Fall. She tells him that she once played Maggie (the character believed to be based on Marilyn Monroe), and quotes the line, 'You tried to kill me, mister. I been killed by a lot of people, some couldn't hardly spell, but it's the same, mister.'
In the courtroom, Crozier exaggerates her ditzy blonde persona, stating that she knows nothing about the drug world while asking leading questions. She insinuates that the other clubgoers, high on PCP, became aggressive and attacked the woman.
It soon becomes clear that Crozier is seeking to clear the security firm of blame while showing Alicia's client in a negative light. However, Alicia's assistant discovers that the skids for holding the revolving stage were uncovered that night, which had caused the guests to trip and fall on top of the victim.
Therefore, Alicia finally outwits Crozier. It is interesting that Crozier had previously played a Monroe-like character in a play, because like Monroe, she is far more intelligent than she lets on, and uses her feminine wiles to manipulate men.
However, unlike Marilyn, Crozier is tough and calculating. Her character is also reminiscent of Elle Woods, the attorney played by Reese Witherspoon in the 2001 comedy, Legally Blonde.
In another plot twist, a deposition made to Alicia by Glenn Childs (Titus Welliver), Peter Florrick's political rival, is leaked to the press. Childs believes (incorrectly) that Alicia, Florrick's wife, is the source of the leak.
What's also intriguing here is that Welliver previously played Joe DiMaggio in the 2001 mini-series, Blonde, while Griffin Dunne, who plays Judge Quinn in the After the Fall sequence, also featured in Blonde as the play's author, Arthur Miller.
Finally, if Mamie Gummer (Crozier) looks familiar to you, she is, in fact, the 27 year-old daughter of acting legend Meryl Streep. Gummer also stars in the new medical drama, Off The Map, and will appear in John Carpenter's forthcoming horror flick, The Ward.