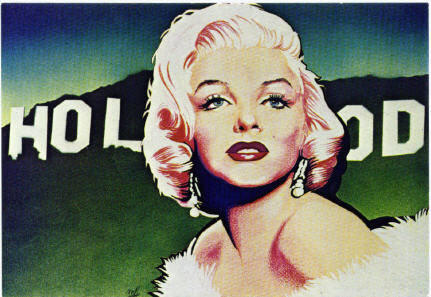 'Hollywood's a place where they'll pay you a thousand dollars for a kiss, and fifty cents for your soul,' Marilyn Monroe once said. 'I know, because I turned down the first offer often enough and held out for the fifty cents.'
Since Canadian businessman Jamie Salter acquired the rights to license Marilyn Monroe's image for $50 million from Anna Strasberg last week, there has been talk of Marilyn being 'reanimated' in future advertising and even movies.
This is not an entirely new idea – footage from Some Like it Hot was used in a Holsten Pils lager commercial back in 1987, replacing Tony Curtis with Griff Rhys-Jones. But Marilyn's dialogue remained unaltered.
In a 2010 commercial for Citroen DS3, 'Anti-Retro', vintage news footage of Monroe was over-dubbed with promotional dialogue. Some journalists  mistakenly reported that the lines were Marilyn's, although the original interview is well-known to fans and has appeared in several documentaries.
In December 2010, comedian and writer Mel Smith spoke of the Hollywood director George Lucas's plans to reanimate stars of yesteryear in new movies. 'He's been buying up the film rights to dead movie stars,' said Smith of Lucas, 'in the hope of using computer trickery to put them all together in a movie, so you'd have Orson Welles and Barbara Stanwyck appear alongside today's stars.'
A Lucasfilm spokesperson denied the rumour as 'completely false.' However, Mark Roesler of CMG, the company that licenses the estates of many past celebrities, including – until recently – Marilyn Monroe, confirmed that he had been approached by Lucas.
MM will now be represented by Authentic Brands Group. 'I had Marilyn Monroe locked up before he told the world he'd like to do a Marilyn Monroe movie,' chairman Jamie Salter boasted last week, adding, 'I'll make him a better deal then he'd get with Angelina Jolie.'
Salter predicts that the first full-length film featuring a dead celebrity could be released within just two years. He insists that he will protect Monroe's legacy: 'When she's on the set, we'll manage her. She's not taking off her clothes, I can tell you that!'
What concerns me most about this development is the distinct possibility that Marilyn's image will be used in ways that she may not have approved had she still been alive. 'These celebrities don't talk back,' Salter told reporters last week. 'They don't go out on the town late. They are ready to film every day.'
In 1962, shortly before her death, Marilyn said, 'An actor is not a machine, no matter how much they want to say you are…everybody is always tugging at you. They'd all like sort of a chunk of you.' Her words seem as relevant today as they did nearly fifty years ago.