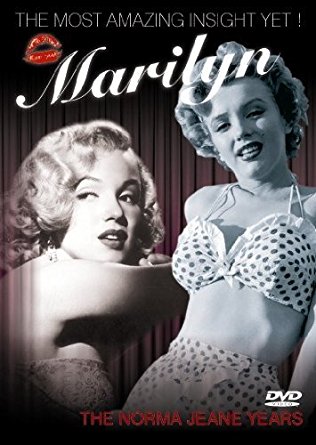 This DVD was released in 2010, but it is actually a reissue of a 1991 documentary, The Discovery of Marilyn Monroe. As the titles suggest, this 50-minute film focusses on Marilyn's early career, including Norma Jeane's 'discovery' by photographer David Conover while she was working at the Radio Plane munitions plant in Los Angeles in 1945, while her first husband, Jim Dougherty, was serving in the Navy during World War II.
This meeting, which inspired the 19 year-old Norma Jeane to pursue a modelling career, is reconstructed by actors. This early period is also touched upon in interviews with her foster sister, Eleanor 'Bebe' Goddard. Sketches that she and Norma Jeane made in their teens, including their own fashion designs, are shown here.
Dougherty, who became a policeman after divorcing Norma Jeane in 1946, is also interviewed. He is filmed arriving in Los Angeles, and driving a Ford Dodge car similar to the one he owned during their four-year marriage. He is reunited with two more famous names from his past, Jane Russell (whom he once dated while at high school, and later met at a dance with Norma Jeane) and Robert Mitchum (with whom Dougherty worked with at Lockheed, another munitions plant, soon after his wedding to Norma Jeane.)
Of these interviewees, it is Russell who seems the most realistic and empathetic with Monroe, with whom she would co-star in 1953's Gentlemen Prefer Blondes. Of all the main interviewees, Russell is now the only one still living. Mitchum (who once visited the Dougherty home) was paired with Marilyn later the same year, in River of No Return.
Their memories of Norma Jeane/Marilyn suggest a sweet, shy young woman who was undone by her own vulnerability. It is interesting to observe the dynamic between the three old friends, as Dougherty had not seen either Mitchum or Russell for almost fifty years. Dougherty seemed upset that Mitchum had not replied to his letters.
Robert Slatzer, the Hollywood journalist who claimed to have secretly married Marilyn in 1952, also appears briefly. In recent years his claims have been much disputed by biographers like Donald Spoto. But Bebe Goddard calls him a friend in her footage, though they would not have known Marilyn at the same time. It's more likely that Slatzer befriended Goddard after Monroe's death.
Overall this is a slight but pleasant enough documentary, and the footage of Goddard and Russell is worth seeing. I was a little disappointed to realise that this is not a new documentary, and might not have bought it had I known. However this was not a film I have seen before so despite being rather misled, it was still quite an enjoyable experience.
You can also watch this documentary on Youtube