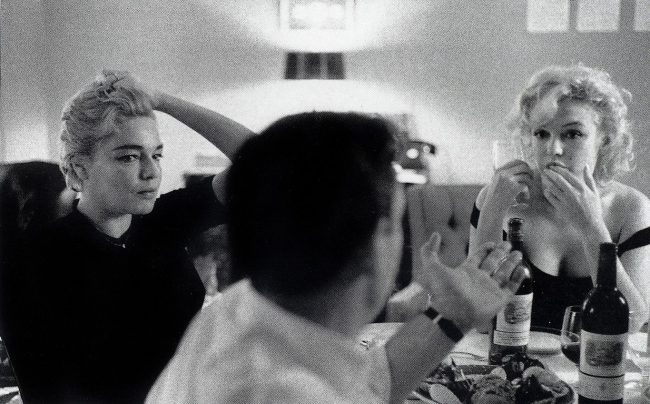 While filming Let's Make Love in 1960, Marilyn Monroe lived with husband Arthur Miller in a bungalow at the Beverly Hills Hotel. Monroe's co-star, Yves Montand, stayed next door with his wife, the French actress Simone Signoret.
The Millers and the Montands were good friends, but their lives were shattered when Marilyn and Yves had a very public affair.
But Signoret never blamed Marilyn for the ensuing scandal, and the dynamic between these two women is now the subject of a play, Marilyn, by Scottish dramatist Sue Glover, to be performed at the Citizens' Theatre, Glasgow, next February, and at the Lyceum Theatre, Edinburgh, in March.
"Nobody ever said Lady Macbeth was a brunette…

Holding a mirror up to the notion of stardom, the myth of the blonde bombshell and the pressure of fame, Marilyn offers a glimpse into the private life of one of popular culture's most iconic women.

1960. Marilyn Monroe is staying in the Beverly Hills Hotel with her husband, Arthur Miller, while preparing to film Let's Make Love.

In the apartment opposite, the great French actress Simone Signoret waits for her husband Yves Montand, to return from the studio.

Both successful actresses in their own right, the women form an uneasy friendship under the watchful eye of Patti, hairdresser to the stars. But it will become a friendship that will test their deepest beliefs and will threaten to destroy them both.

This new play by Sue Glover, best known for the Scottish classic Bondagers, is an intimate portrait of the life of one of the 20th century's most enigmatic film stars."
After Bonnie Greer's Marilyn and Ella, Sunny Thompson's one-woman show Marilyn: Forever Blonde, and with a new movie, My Week With Marilyn, now in the works, using episodes of Monroe's life as a basis for drama is currently more popular than ever.
As with all MM-related fiction, the quality of this play will depend on the depth of Glover's research and sensitivity towards the subject, and the subtlety of its production.
To get a flavour of Glover's Marilyn, read an interview with director Howard Miller in the Herald Scotland today.