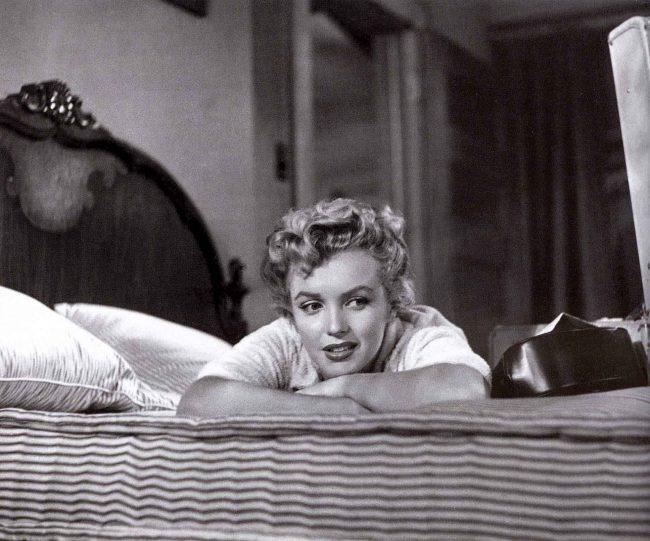 One of Marilyn Monroe's strongest early film roles was as Peggy, the feisty cannery worker in Clash by Night (1952), based on a play by Clifford Odets.
Marilyn knew Odets quite well and later played Lorna Moon in a scene from his most famous play, Golden Boy, at the Actor's Studio during the late 1950s. She later considered starring in Odets' screenplay, The Story on Page One (1959), but that role went to Rita Hayworth, and was directed by Odets himself.
Always competitive with Miller, Odets took a rather dim view of The Misfits (1960), Monroe's last completed film, which Miller wrote and John Huston directed.
Odets was the leading New York playwright of the 1930s and 40s, and his plays focussed on social injustice and the plight of the 'little man'. He was also involved in the formation of the Group Theatre alongside Lee Strasberg.
Unlike Arthur Miller, the playwright who ultimately eclipsed him, Odets chose to 'name names' in the House Un-American Activities Committee trials of the early 1950s, a decision he would bitterly regret. He died in 1963.
In his essay on Monroe in the book, Who the Hell's in It, director Peter Bogdanovich recalled, 'Clifford told me that Marilyn Monroe used to come over to his house and talk, but that the only times she seemed to him really comfortable were when she was with his two young children and their large poodle. She relaxed with them, felt no threat. With everyone else, Odets said, she seemed nervous, intimidated, frightened. When I repeated to Miller this remark about her with children and animals, he said, "Well, they didn't sneer at her.'"
Soon after Monroe's death, Odets wrote, 'One night some short weeks ago, for the first time in her not always happy life, Marilyn Monroe's soul sat down alone to a quiet supper from which it did not rise. If they tell you that she died of sleeping pills you must know that she died of a wasting grief, of a slow bleeding at the soul.'
One of Odets' later plays, The Country Girl (filmed in 1954 with Grace Kelly) is currently being revived in London. Walt Odets has spoken to the Jewish Chronicle about his famous father and his memories, and mentioned, rather unfavourably, the marriage of Arthur Miller and Marilyn Monroe:
"The Strasberg version of the marriage was that Arthur treated Marilyn badly. So I grew up with bad feelings about Miller. I met Arthur a few times and he was a very hard, cold man. He was the kind of guy who doesn't like children or dogs. And for a child that is immediately perceptible."