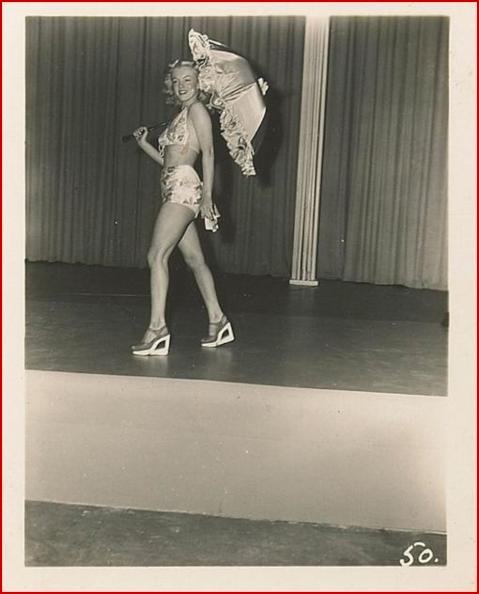 Rare photographs of Marilyn Monroe in a 1948 stage show, Strictly For Kicks, will be sold in a Bonham's and Butterfield auction of entertainment memorabilia, to be held in Los Angeles next month. Marilyn wore the same floral bikini and platform sandals in her first movie, Scudda Hoo! Scudda Hay! (1947)
In 1948, Marilyn signed a 6-month contract with Columbia. However, she had previously worked at Twentieth Century Fox, and in March she appeared in a studio talent showcase at the Fox Studio Club Little Theater. An outside arena was built instead of using the stage on the lot, as studio boss Darryl F. Zanuck would be attending.
Marilyn appeared in two brief scenes, and the script included directions such as 'Miss Monroe butts onto the stage…'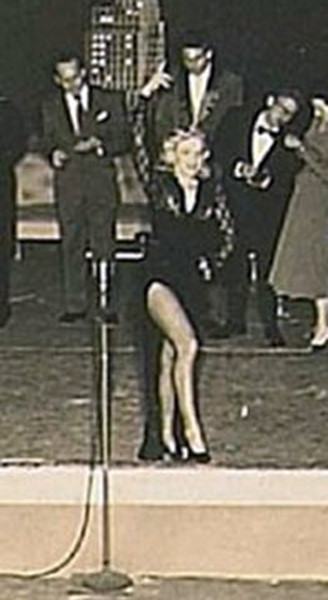 Marilyn appears to be wearing a costume from Ladies of the Chorus, which she filmed at Columbia in April.
In other pictures from the event Marilyn wears a light-coloured dress, which could be the same gown which she would wear in Love Happy (1949.)
Other items on offer at Bonhams' include contractual papers for Bus Stop; a signed photo; personally-owned scripts for Let's Make Love and Something's Got to Give; a handwritten note by Marilyn, reminding herself to call poet Carl Sandburg; a mortgage agreement signed by Monroe and third husband Arthur Miller; a receipt for a gas payment, dated to Marilyn's last birthday; and some airline tickets.
More details at Jezebel
Thanks to Megan at Everlasting Star