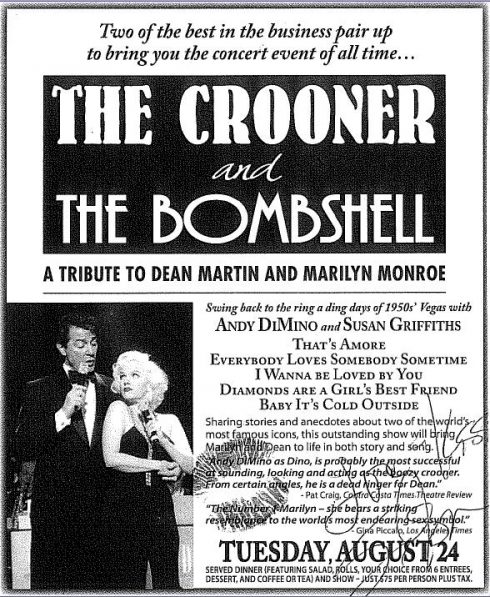 For your weekend reading pleasure, a very special guest post from my good friend, Edgar Freire – a talented artist and poet.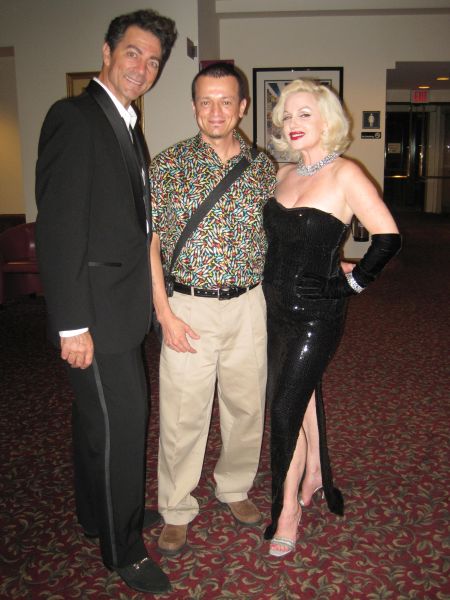 "The Crooner and The Bombshell"
A Tribute to Dean Martin and Marilyn Monroe
with Andy DiMino and Susan Griffiths
at the Westchester Broadway Theatre, Elmsford, NY
Review of August 24, 2010 show by Edgar Freire
Let me begin by saying I was quite surprised when my friend Veronica invited me to see this dinner show.  I had never attended a dinner theatre production before, and I was actually surprised to know that they still existed.  I had often assumed that dinner theatre was a nostalgic activity that had its hey-day in the 50s or 60s, and was no longer around.  And when my friend and I were seated at our table directly in front of the stage, this assumption was proven partly correct as I scanned the audience and saw a lot of gray and silver-headed attendees.  That's when Veronica and I realized we were the youngest people in the audience!
We were presented with a menu and had an hour to dine before the show began. The food was on the average side, but the wait staff was very helpful and friendly, and I was really enjoying what was a totally new (for me) form of entertainment.
The show began with Andy DiMino taking the stage as Dean Martin.  I have to admit I was not very familiar with Dean's music before, so the material he was going to sing would be new to my ears.  But I could see (by the swaying of female heads in the audience) that his music is well loved, and certainly stirred memories of the golden days of the crooners, as well as old romances.  By the end of the evening, Andy's performance gave me a greater appreciation for the music of Dean Martin.
After singing some more solo numbers, Andy/Dean summoned Susan Griffiths as Marilyn Monroe to the stage.  And when Susan wiggled onto the stage in a skin-tight red cocktail dress, I have to admit I could not keep my eyes off her!  Susan had Marilyn's mannerisms and breathy voice down perfect, and there was obvious and genuine chemistry between her and Andy.
The show proceeded with the two stars singing together, then Andy left as Susan took over the spotlight, and the show continued with variations of this solo and duet arrangement.  For me particularly, it was great to hear songs from classic Monroe films in this live setting, which were re-recorded by Griffiths with just the slightest different arrangement that gave them a freshness.  I was especially pleased to hear 'A Fine Romance' and 'River of No Return' – two lesser-known songs from the Marilyn catalog – which were superbly rendered by Susan.
Oh, and I forgot to mention that the show contained a lot of comedy!  Andy had great comic delivery and really served the laughs, while Susan occasionally descended the stage and mingled with the audience, picking certain people in the crowd to participate in the fun.  Another highlight was the duet 'Baby It's Cold Outside', which ended with faux snow descending onto the stage. It was a magical moment which recalled a scene from the great Hollywood musicals.
After the show, Andy and Susan were generous enough to meet in the lobby for photos and greet audience members.  I had a chance to speak briefly with Susan and ask her about the origins of the show.  Apparently, Andy had been doing Dean Martin in a solo Las Vegas show some years before, and after the two of them connected, the idea came to them to perform together as Dean and Marilyn.  I also asked Susan if there would be future shows.  According to her, they have no scheduled tour dates, but instead try to fit in shows when and where the opportunity arises.  The next day they were booked to perform the same show in Staten Island, and then she was off for an engagement in Sweden.
Susan reminded me that the show is still a work-in-progress, and that eventually they would like to integrate into the show some background history of the real-life Marilyn and Dean's working and personal relationship.  As most Marilyn fans already know, Dean and Marilyn were close friends in real-life, and were starring together in the unfinished film Something's Got to Give at the time of her death.