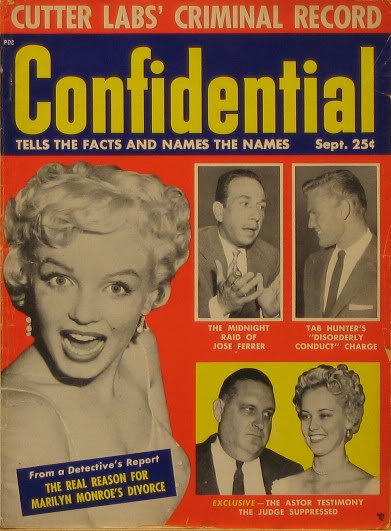 Over at The Believer, Anne Helen Peterson takes a look at Confidential, the notorious 'scandal sheet' of the 1950s which paved the way for the likes of The National Enquirer and Perez Hilton.
"The decision to put Marilyn Monroe on the cover of an early issue helped boost sales, but the magazine's content comprised equal parts stars and general-interest celebrities: politicians, government officials, singers, and socialites. At the same time, the fan magazines, whose singular focus had been Hollywood stars, began to cover teen idols, television personalities, and Jacqueline Kennedy. The lines between fan magazine and scandal rag were blurring, but so, too, were those that had long separated the high-, middle-, and lowbrow press. A blatantly pornographic magazine like Playboy was suddenly posturing as 'gentleman's journalism'—and the New Yorker was profiling Marlon Brando, a major Hollywood star."
The rise of Confidential ran parallel to Marilyn's own reign as the uncrowned queen of Hollywood, including the disastrous 'Wrong Door Raid' of 1954, and a 1957 story by journalist Robert Slatzer, who claimed to have had an affair with Marilyn five years earlier, while she was filming Niagara.
Years after Marilyn's death, Slatzer claimed to have secretly married the actress in Mexico in 1952, and he remains one of the most controversial figures in Hollywood lore.