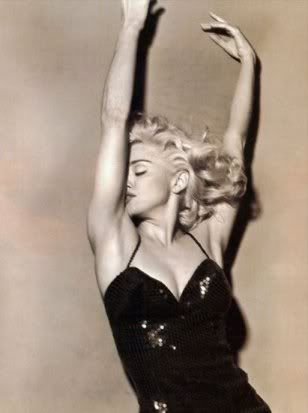 Ever since Madonna and Stephen Meisel's 1990 'Homage to Norma Jean' spread in Vanity Fair, celebrities have been imitating Marilyn Monroe's style – with mixed results.
"This trend of infinite iterations starts and ends with Marilyn Monroe, the dead starlet that every living starlet wants to imitate. As Lynn Hirschberg notes in a profile of Megan Fox (who has a Marilyn tattoo on her forearm), "Monroe was her own brand before branding existed." What better way to send a career-branding message, then, than to channel the original tortured personal branding bombshell? Or so the logic goes.

But the Marilyn kabuki act rarely works as intended. Every time I see Lindsay Lohan as Marilyn, I question the troubled starlet's mental health. Every time I see Megan Fox as Marilyn, I wonder if she's not just an Angelina imitator, but a LiLo imitator, too. When Nicole Kidman did Marilyn, she looked old. When Scarlett did Marilyn—well, that was actually pretty good. But when Jessica Simpson did Marilyn (via famed Marilyn lookalike Virna Lisi, making hers an imitation of an imitation) it was an unmitigated disaster, lifeless and awkward.

This is what the future will look like if we don't kill the starlets-imitating-starlets trend now. Starlets, stylists, editors: Start cultivating your own iconic looks. Do something original! Surprise us! Otherwise we'll all be spinning in tutus in the rain for the decades to come, and between the Monroe imitators flipping their skirts up on the sidewalk, and the Mary Tyler Moore imitators spinning with shopping bags, the streets are crowded enough with pantomimes, already." – Gawker
Fans in the Everlasting Star community have been monitoring this trend for some time now, and you can look back at the many celebrity homages to MM – the good, the bad, and the downright bizarre – in the member's forum.