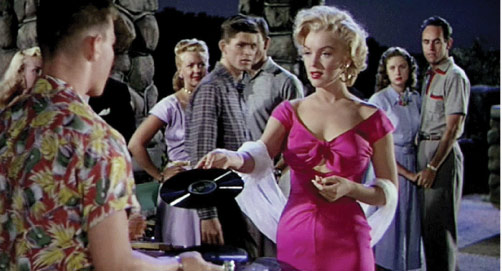 In today's LA Times, fashion pundit Freddie Lieba salutes 22 seminal film frocks that bewitched the world. Three of the selections are from Marilyn Monroe's movies, including this Dorothy Jeakins dress from Niagara (1953).
"Marilyn Monroe plays a femme fatale in this film, and the pink taffeta dress was simply perfect for a seductress—there was both a bow and a cutout near her bosoms. They also famously cut off a little of her high heels to make her hips wobble more and pitch her walk a bit differently and make her somehow look sexier. It was a very risqué look at the time. Niagara was banned by churches when it was first released."
Can you guess what Freddie's other choices were?