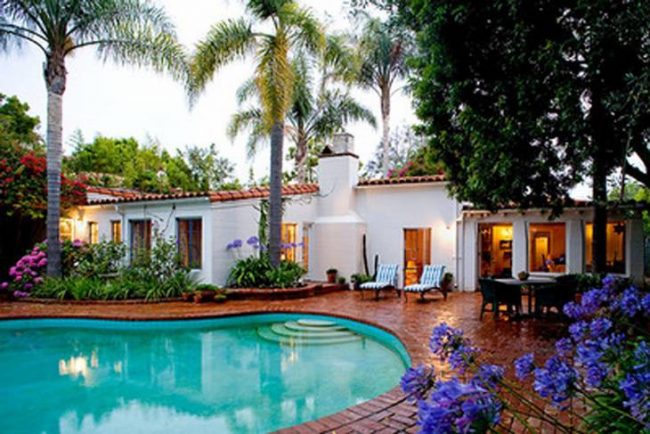 A more spiritual perspective on Marilyn's last home, currently up for sale, from feng shui expert Dana Claudat.
"Is it little coincidence that this house appears to be missing vital areas of the bagua? The fastest way I can explain the bagua is to say that in feng shui, certain areas of a home can be placed within a geometric grid that encompasses every area of existence — physically, spiritually, emotionally and even monetarily, assigning certain significance to every area. When areas are 'missing' it is not the end of the world, but it certainly raises eyebrows that such a coincidence has occurred. Though I can't see a complete floor plan, it seems that the 'Self' and 'Wisdom' areas are absent totally from the floor plan of the property.

Even more concerning is that this house is replete with such devastatingly powerful and aggressive beams slicing the energy through every room that I feel no holistic life stands a chance here without some real work on the space. The beams are really intense. Look at every room, nearly each one (including the living room — the main gathering area, and the kitchen — the area of nurture and nourishment in the home) has been bisected by really large beams."
I must admit to having mixed feelings about this property. While it is a beautiful house, where Marilyn once lived, it is also the place where her life ended. Whoever finally buys it will have to accept that it will always carry these associations with MM, and it inspires a sometimes morbid curiosity in people.
The house is located in a tiny cul-de-sac in Brentwood, a quiet, upmarket residential suburb of Los Angeles. Some of its more recent occupants and neighbours have not been happy about the constant visits by sightseers, and I can understand that.
However, public interest shows no sign of waning. Ideally I would like to see this house restored to its 1962 form as a national heritage site, in the way that John Lennon's childhood home in Liverpool, UK is now maintained.
But while Monroe is fast becoming one of America's greatest icons, historians have been slow to recognise this. The endless auctions of recent years, where Marilyn's personal property has been dispersed among private collectors, are a similar example of opportunities squandered.
And with no surviving relatives to protect Marilyn's legacy, I can't see a sea-change occurring anytime soon. In death, as in life, Monroe seems to be alone and unprotected.